Solutions for Tooth Loss

Sun City West, AZ




From reduced oral function to an incomplete smile, losing your teeth can cause you many problems. Luckily, tooth loss is not the end of things as it is possible to replace your lost teeth with prosthetics. If you are suffering from an incomplete smile, Solutions Dental Implants can help to restore it using various dental solutions. Dentures are among one of our top tooth replacement solutions. When it comes to dentures, we offer two options – partial dentures and full dentures.


What are Partial Dentures?

Partial dentures are dentures that are used when one or more teeth are missing, but when there remain some natural teeth in your jawbone. Just like with the full dentures, partial dentures come with a plastic base that is usually made from a flesh-looking acrylic material. This holds the specific number of teeth that need to be replaced.

Partial dentures can also feature a locking mechanism, which is used to hold the dentures in place by snapping them onto the existing teeth. This helps to make them more stable and comfortable. However, there are some removable dentures, also known as removable bridges, which use other mechanisms such as adhesives to hold them into place. As a result, you can be able to remove the dentures whenever it is necessary.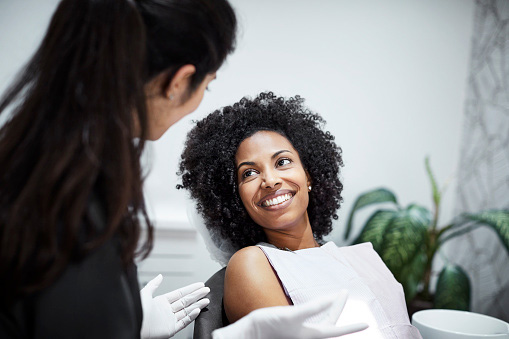 What are Full Dentures?

Full dentures, also known as complete dentures, are dental prosthetics that are used to replace missing teeth when all teeth are missing on either or both jawbones. Full dentures feature a plastic base, which comes in a flesh-like color, thus replicating the gum tissue. The base supports a full set of teeth, which can be made from materials such as porcelain or ceramic. The dentures can be either generic, where you are given a set of dentures that fit your mouth, or custom made, where your dentures are designed and fabricated based on your oral features – the teeth and the dental ridge. Full dentures are usually removable but are held in place using an adhesive.


The Denture Placement Process

Dentures, partial or complete, are usually recommended when your teeth are about to be extracted. Before extraction, we will assess your dental condition and discuss all tooth replacement solutions that are available for you. If you opt for dentures, we will proceed to create a custom set for you, using the design of your natural teeth and jawbone. This will help to ensure that the set of dentures you get will fit perfectly while restoring your oral function and improving your appearance.

During the tooth extraction procedure, your damaged teeth will be removed, and a temporary set of dentures will be placed in your mouth. Once your gums are done healing, the temporary denture bridge will be replaced with the permanent custom-made dentures.


Why Should You Get Dentures?

Partial and full dentures can help to replace your missing teeth, restore your oral function, and improve your appearance by giving you a natural looking smile. They are also an affordable and immediate option, allowing you to enjoy an instant solution for your tooth loss.

If you are experiencing problems with your teeth, Solutions Dental Implants can help. Call us today at (623) 556-5442 to find out which dentures option is right for you. We also offer other tooth replacement options like

dental implants

and All on 4 Treatment.