Dental Implant Placement

Sun City West, AZ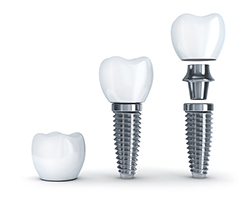 Single tooth implants and multiple tooth implants look and feel similar to a natural tooth. If you have to replace missing teeth or a damaged tooth, these are both great dental treatment options. With long-lasting treatment, you will be able to overcome tooth loss with a natural feel and appearance. At Solutions Dental Implants, Greg Kammeyer, DDS, MS and use high-quality dental implants that can be a great solution for your missing teeth.


What to Do After You Get Dental Implants
Brush and Floss

The first step to implant care is to change toothbrushes after acquiring dental implants. Bristles of soft toothbrushes are flexible and mild on dental implants. To properly clean the challenging-to-reach places surrounding your dental implants, you may also use a Proxabrush.

Be careful not to use toothbrushes with rough bristles since they could harm the top of the implants. In fact, after the implants are already in place, you must refrain from cleaning the mouth with any kind of metal device. Just continue to brush and floss your teeth as usual, twice per day. Just 16% of individuals in America regularly floss. This indicates that just 84% of individuals don't floss regularly enough. It's time to make changes if you fall into this statistic because of your dental implants. Dental implants make flossing as crucial as ever. The reason is that plaque, which may cause other dental hygiene problems, can quickly build up around the implants.


Abstain from Bad Habits

For overall health, abstaining from drinking and smoking is a smart option. After receiving dental implants, you must stay away from these chemicals. Smoking may be especially harmful at this time since it takes your dental implants roughly six months to recover. Also, consuming alcohol must be avoided whenever possible since it has been demonstrated to slow down the recovery of dental implants.


Healing After Dental Implant Placement

You're also undoubtedly interested in knowing how to properly care for dental implants right after the treatment.
You may experience some discomfort and swelling throughout the 24 hours after receiving dental implants. This is typical, so you shouldn't be alarmed.
The following actions should be taken after the procedure:

| | |
| --- | --- |
| • | Grab an ice pack and hold it to the face at 15-minute intervals as required during the initial eight to 12 hours following surgery. |
| • | Within the initial 24 hours, only eat soft foods and drinks. |
| • | Take prescription medicine as instructed by your physician. |
| • | For the initial 24 hours, resist rinsing the mouth. |
| • | Within the initial 8 to 12 hours, avoid moving around too much. |
| • | Remember not to drive on the day of the surgery. Arrange to have someone take you home after the procedure. |
How Implants Prevent Bone Loss

As dental implants serve as an alternative tooth root, they aid in preventing bone loss. The dental implant is surgically implanted into the gums and jawbone. When mended, the jawbone is affected by the pressure of normal smiling, biting, and chewing. This keeps the bone from degrading any more and helps make it stronger.

By getting dental implants, you may avoid worrying about bone loss that can damage the jaw and alter the look and shape of your face. Like a natural tooth, the implant strengthens the jawbone, avoiding bone resorption. To learn more about dental implant placement, contact Solutions Dental Implants at (623) 556-5442 today!