Dental Implant Placement

Sun City West, AZ
Replacing missing teeth is essential for restoring the functions and aesthetics of your mouth. At Solutions Dental Implants, we can replace your missing teeth with dental implants. Implants, a revolutionary alternative to bridges and dentures, consist of small titanium rods, which are used to provide support for replacement crowns. The process of getting dental implants is more invasive than traditional treatments, but the results make the procedure worth it.
Why Get Dental Implants?
Dental implants may require a surgical procedure, but they offer numerous
benefits
over traditional replacement options.
| | |
| --- | --- |
| • | Much like bridges and dentures, implants restore the basic functions of your mouth. You can eat and speak with ease once again. |
| • | Implants improve the quality of your smile and provide a much more natural appearance. |
| • | They are secure and stable. You do not have to worry about them slipping or falling out of place. |
| • | They are more comfortable. The implants support your crowns, rather than your gums or natural teeth. |
| • | They are easy to care for and can be brushed and flossed just like natural teeth. |
| • | They protect the integrity of your jawbone, stopping and preventing further bone loss. |
Your Consultation
Before you can get dental implants, you first need to undergo a thorough evaluation. We closely examine your mouth to determine if this treatment is the best option for you. We visually inspect your remaining teeth as well as your gum tissue. Digital imaging is also used. These images allow us to see the condition of your mouth below the gumline, including the health of your jawbone. Images are then used to plan your procedure.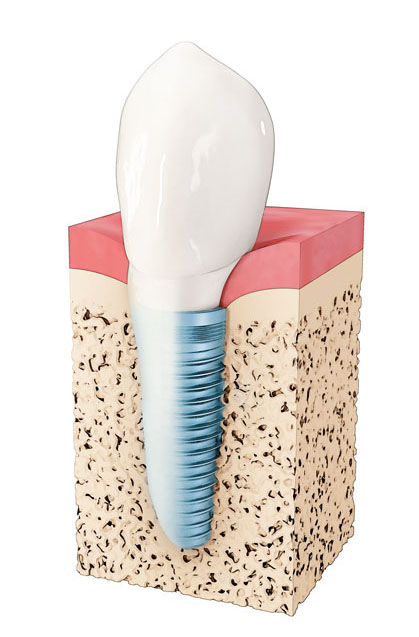 Implant Surgery
Your surgery starts with a local anesthetic, which prevents you from feeling pain, and sedation, which enables you to remain calm and relaxed throughout the procedure. We then make incisions in your gums, exposing the jawbone below. Holes are drilled into the bone, and the titanium rods are placed inside. Finally, the gums are sutured closed around the implants, leaving a small amount exposed above the tissue. Temporary teeth are placed to provide you with some function while you heal.
Recovery
Recovery following implant surgery can take anywhere from a few weeks to several months. The amount of time it takes will depend on many factors, including the number of implants placed. During this time, we will monitor your progress closely, making sure that the bone is fusing to the implants and that you are experiencing no complications. While you are healing, it is important to limit your activities and rest, especially early on. In the beginning, you should stick to soft, even liquid, foods, avoiding anything hard, crunchy or sticky. You should also continue to take care of your mouth while you heal. This is crucial for preventing infections and implant failure. As you heal, you can slowly begin to resume normal activities. We will provide you with specific instructions on aftercare following your surgery.
The Placement of Your Permanent Crowns
Once you have fully healed from surgery, we then begin the process for placing your permanent crowns. This involves two appointments. At the first appointment, we remove the temporary teeth and take impressions of your mouth. These impressions are sent to a dental lab, where your teeth are custom designed and created. While you wait for your new teeth, the temporary teeth are set back in place. The second appointment occurs when the permanent crowns are ready. We remove the temporary teeth, check the new crowns for fit, and secure them into place on the implants with screws.
Learn More About Dental Implants
Dental implants may be a more involved process than other tooth replacement options, but they offer significantly more benefits. If you have suffered tooth loss, and are interested in finding out if dental implants are right for you, call Solutions Dental Implants to
schedule your consultation
today at
(623) 556-5442
.