Crown Lengthening

Sun City West, AZ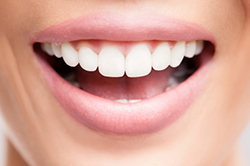 When most people think of a beautiful smile, they tend to focus on the appearance of the teeth. While your teeth are an integral component of your smile, you can have perfectly straight, white teeth and still not have the smile you hoped for. In addition to the appearance of your teeth, your gum tissue also plays a major role in your smile. Excess gum tissue, which gives you a gummy smile, can make even the most perfect teeth appear small. As a result, your smile suffers. At
Solutions Dental Implants
, we can correct the appearance of a gummy smile, and improve your oral health, with crown lengthening.
Crown Lengthening
Crown lengthening is a common cosmetic procedure that is performed to restore a natural, healthy, beautiful gum line by removing excess gum tissue that is making your teeth appear small. For some patients, some bone may also need to be removed to achieve the optimal results. Once the procedure is complete, the results are noticeable right away and will continue to improve as you heal.
How is a Crown Lengthening Done?
Crown lengthening used to be performed with a scalpel.
Today, however, with advances in dental technology, we perform the procedure using a dental laser. Rather than a sharp blade, the laser uses a concentrated beam of light that cuts through the gums, cauterizing the tissue at the same time. Because the tissue is cauterized, bleeding is minimized. The laser also provides pinpoint accuracy, which limits the amount of pain and swelling that patients experience after the procedure is complete.

The procedure is performed under a local anesthetic. Once the anesthetic takes effect, small incisions are made in the gums, which allows us to separate the gums from the teeth. The laser is then used to remove the excess gum tissue and shape a more natural gum line. If necessary, bone is removed as well. Once complete, the tissue is sutured back over the teeth. Once you have fully healed, you are left with a beautiful smile that you will want to show off at every opportunity.
Functional Crown Lengthening
While crown lengthening is often a cosmetic procedure, it does serve some functional purposes as well.

| | |
| --- | --- |
| • | Dental crown placement. Crowns are a common treatment for restoring damaged or decayed teeth. This treatment uses a small cap that is made to cover the entire visible surface of the tooth. If you have too much gum tissue around the tooth, however, the crown will not be able to provide adequate protection, leaving you susceptible to infections and other issues. A crown lengthening can be performed to remove the gum tissue, making it possible to properly place the crown and restore your oral health. |
| • | Cavity treatment. Cavities at the gum line can be difficult to treat effectively. Decay may not be fully removed, or the cavity may not be filled. By removing the tissue from the cavity, we can properly treat the tooth, preventing further issues. |
| • | Improving periodontal health. Excess gum tissue can create hiding places for oral bacteria. These areas can be difficult to keep clean, which can then increase your risk for gum disease development. By removing excess tissue, these hiding places are eliminated, and your mouth is easier to maintain. |
If a gummy smile is detracting from your smile and causing you to feel self-conscious, a crown lengthening may be the solution. For more information, and to schedule your consultation, call Solutions Dental Implants at (623) 556-5442 today.