Connective Tissue Regeneration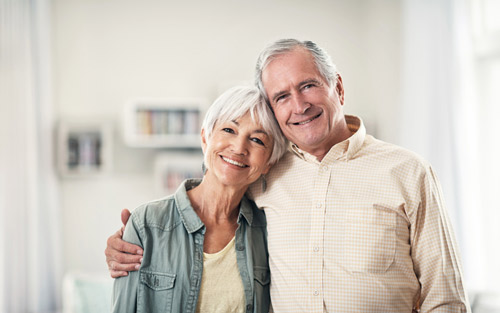 When your gums reced, your oral health and your smile are significantly impacted. The gums play a crucial role in protecting the roots of your teeth as well as their supporting structures. They help to provide stability for your teeth. They also play a major role in the appearance of your smile. One of the biggest causes of gum recession is periodontal, or gum, disease. With gum disease, periodontal pockets form as your gums pull away from your teeth. This allows bacteria to travel below the gum line and attack the structures underneath, including the connective tissues. This leads to gum recession, bone loss, and even tooth loss. Solutions Dental Implants can help to restore connective tissue with connective tissue regeneration.


Other Causes of Gum Recession

While gum disease is one of the most common causes of gum recession and loss of connective tissues, there are other causes as well. These causes include

| | |
| --- | --- |
| • | Aggressive brushing, which can wear away sensitive gum tissue. |
| • | Misaligned teeth. Not only can misaligned teeth increase your risk for gum disease, but they also create excessive forces on teeth, stripping away gum tissue. |
| • | Bruxism, or the grinding and clenching of your teeth. |
| • | Smoking, or using other tobacco products. |
| • | Genetics. Your genes can predispose you to gum disease and gum recession. |
Connective Tissue Grafting

A connective tissue graft is a type of soft tissue graft that is designed to restore a healthy gum line following gum recession while also restoring adequate root coverage. This particular type of graft involves taking tissue out from under the roof of your mouth. To get this tissue, we create a small incision in the palate and remove the necessary tissue from underneath. The tissue is then sutured into place over the affected teeth. As you heal, the tissues fuse together, regenerating and restoring a healthy, beautiful gum line.


Benefits of Connective Tissue Grafting

Connective tissue grafting offers several significant benefits.

| | |
| --- | --- |
| • | The roots of your teeth are covered, preventing tooth sensitivity. |
| • | Your oral health is restored. A healthy gum line helps to protect the teeth, the ligaments, the connective tissues, and the bone from bacterial attack. |
| • | Your smile, and your confidence are restored. By regenerating gum tissue and restoring a healthy gum line, we also help to restore your beautiful smile. This can help you to regain your confidence. |
L-PRF

L-PRF, or leukocyte platelet-rich fibrin is another treatment designed to help regenerate tissue following gum recession. With this treatment, a small sample of your blood is taken and spun through a centrifuge. As the centrifuge spins, the blood is separated. The natural coagulation process also takes place in the center of the sample. A fibrin matrix forms, trapping platelets. Platelets contain growth factors essential for tissue healing and regeneration. The fibrin clots are then removed and pressed on a special tray, which removes excess water. What is left is a thin membrane that can then be placed over the exposed areas of your teeth to regenerate new tissue, including connective tissue.

If your mouth has been affected by periodontal disease, and your connective tissues have been impacted, connective tissue regeneration can help. For more information, call Solutions Dental Implants at (623) 556-5442 today.