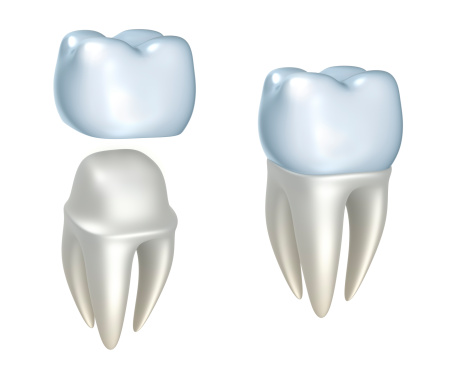 Have you ever
lost a tooth
to decay or gum disease? Have you had one damaged in an unfortunate mishap or
extracted
? Has this affected your lifestyle, making once simple everyday activities (eating, brushing, drinking cold liquids) more challenging? Are you self-conscious about others seeing your teeth in public? You're not alone. At Solutions Dental Implants, we see firsthand just how many people don't appreciate their dental health until they lose a tooth.
If you're looking to restore that smile to its former glory, then a
dental crown
might be the answer you're looking for. Crowns are not only useful for reinforcing a damaged tooth or making it look good, but also improving your teeth's structure, alignment, and bite surface. When you lose a tooth, the spaces left can cause the other teeth to move and gradually alter your dental occlusion (bite). It's our job and our pleasure to help patients prevent this from happening, so you can walk outside confident in your grin. To schedule a visit, please call us today at (623) 556-5442.
What Is a Crown?
A crown (also called a "cap") is modeled after your natural teeth to cover what remains of the tooth that has suffered damage or decay. Each one is custom-made, and you have multiple materials to choose from before getting it. If it takes more time for your permanent crown to be made, a temporary one will be provided for the duration of your waiting period.
How Are Crowns Made?
Crowns are most often constructed ahead of time and can be made from several materials & combinations. These include Pure metal, porcelain fused with metal (PFM), zirconia, porcelain fused with zirconia, and ceramic.
When Do I Need a Crown?
There are many reasons a crown may be necessary. The most common cases involve teeth that have been broken or badly damaged by injury or decay. A filling isn't enough to restore or strengthen a tooth with damage this advanced. A crown, however, can potentially bond parts of your cracked tooth back together or hold a bridge in place. As previously said, crowns can also improve your tooth's appearance or be positioned to cover problems like discoloration.
Alternatives to Crowns?
Rest assured, there are options available to you if a crown is not what you're looking for. One popular alternative (albeit, with a more extensive procedure) are
dental implants
, which are tiny screws surgically applied into your jaw to act as an artificial root and a false tooth bonded on top. This can require multiple surgeries to finish but is equally effective at strengthening your tooth. Other choices for restoring and straightening teeth include dentures and orthodontic braces (Yes, you can have braces applied over top of an implant, if you already have one from a prior treatment). The doctors at Solutions Dental Implants can discuss your choices to narrow down the best option, should you reconsider a crown.
If you or a loved one are considering having a crown installed and want to set up an appointment to talk about your treatment plan, remember to call our office at (623) 556-5442.